We are now opening during the days/hours listed below.
Our organic produce will include: Cucumbers (Slicers, Pickles, English), Summer Squash (Zucchini, Golden Zucchini, Yellow Squash, Patty Pan), Beets (Red, Golden, Chioggia), Bok Choy (standard or baby), Kohlrabi, Cabbage (Savoy, Green, Arrowhead), Kale (Green, Dino, Red), Radicchio, Romaine Lettuce, Green Leaf Lettuce, Parsley, Swiss chard, Radishes (French Breakfast), possibly Squash Blossoms.
We now have organic blueberries from Hammonton!
SUMMER HOURS
Monday:  10am to 6:30pm
Tuesday:  10am to 6:30pm
Thursday: 10am to 6:30pm
Saturday: 10am to 6:30pm
CLOSED: Wednesday, Friday, Sunday
(609) 221-0245
The best times to reach us are in the evening or in the morning before 10am.  Please do NOT leave an order (we may not get it until hours later), but try back later if there is no answer.
You can also find us at the Collingswood Farmers Market on Saturdays this year!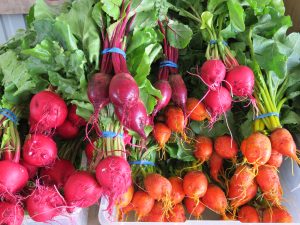 To get on our email list, go to the
home page, click on the menu, then click on the arrow next to "About Muth Farm", then click on "Email Signup".  You will be notified of future sales and specials.