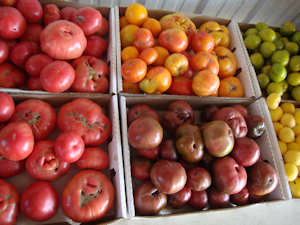 Organic produce is grown without chemical fertilizers, pesticides or herbicides. Only approved, natural products may be used in growing the crops. This is healthier for you, and for the environment as well.
As of October 21, 2002, all produce labeled "Organic", (with sales totaling over $500) must be certified organic.  This certification process requires that certain standards be met for a product to be called "organic".  We are certified by the New Jersey Department of Agriculture.
We have been certified organic since 2001.  At Muth Family Farm, we strive to bring you the freshest, highest quality organic produce possible at a reasonable price!